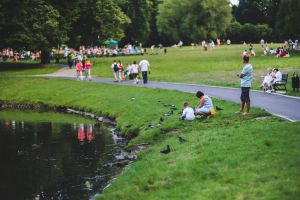 Thursday, September 12th, 2019 is the date of the Oklahoma City API Chapter's annual Kick-Off Luncheon. This luncheon marks the beginning of the 2019-2020 campaign. This year's Kick-off Luncheon will be held at Dolese Park located at 5105 NW 50th St, Oklahoma City, OK. The park entrace is located across from Putnam City High School.
Lunch will begin around 11:45 a.m. Many thanks go out to Endurance Lift Solutions (Randall Thompson), Thru-Tubing Solutions (Cliff McKaughan), and Cudd Energy Services (Sammy Graham) for providing the food and drinks.
Representatives from Continental, Newfield, Red Bluff, and Red Wolf will be our featured speakers to discuss their companies and anticipated plans for the rest of 2019.
Cost of API annual membership is $25 and cost of the luncheon is also $25. In an effort, to speed up the check-in process, you are encouraged to renew your API membership on the website today!